Confirming our commitment
From the papers of the Conference of 17/05/2003 on "Breast Cancer: state of the art and controversy".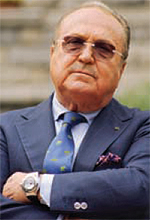 "Over twenty years after its foundation and on the tenth anniversary of the death of its founder, this is maybe the right time to make a quick personal evaluation of the work of the Foundation that I have the honour to head as Chairman of the Pietro Beretta S.p.A. arms manufacturing company. Before making any consideration, however, I would like to confirm, on this double anniversary, that the Beretta company has no intention of bringing its commitment to an end. The title of today's conference: the first Beretta Foundation oncology day, is better than any declaration as confirmation of this commitment. It is implicit that other days will follow the first. This is a commitment that the company I head is very happy to take on. Moreover I feel well supported in this commitment to go ahead with our work.
Of the three doctors, whose names appear on the programme under the figure of Botticelli's Venus carrying out a palpation correctly, Aron Goldhirsch and Giovanni Marini are still the same doctors who first represented the Foundation twenty years ago and Edda Simoncini is the first of many scholarship holders. Maybe they are no longer such "young doctors" but they are still just as or even more passionate about and dedicated to their work. This, in my opinion, is how the fruits of the Foundation should be measured because it has gathered more than its economic means allowed.
The Foundation would like to think that it has, at least in part, contributed to supporting and encouraging these patient, intelligent doctors from Brescia in stubbornly carrying out their work, overcoming discouraging obstacles; in this way helping the seeds of oncological research in Brescia to spread to other institutions beyond the walls of the hospital and the Foundation to come to mean something real and significant, linked to the wider world of science. The constant, generous and learned presence of Aron Goldhirsch has been fundamental in this respect. I do not want this address to become a celebration of what has been done; I know a summary report on this is in the process of being written. However, I have to say that the fact of being here on this day, when our Foundation is contributing to illustrate the "state of the art" in the context of world science, can only confirm that the Foundation is carrying out its task along the lines sketched out by its founder."
Cav. Ugo Gussalli Beretta
Chairman of Fabbrica d'Armi Pietro Beretta