General Motors donates $500,000 to the Beretta Foundation
On 25 May 1989 the Chairman of Pietro Beretta S.p.A., arms manufacturing company, and the Chairman of General Motors met to sign an agreement to settle a dispute over trademark use, making a contribution to the Beretta Foundation through the hands of Prof. Goldbirsch.
Pier Giuseppe Beretta received the donation of $500,000 from Mr. Roger B. Smith, president of General Motors, on behalf of the Beretta Foundation for Cancer Research and Treatment. At the same time the Pietro Beretta arms manufacturing company gave General Motors the right to use its name and trademark for a prestigious Chevrolet car.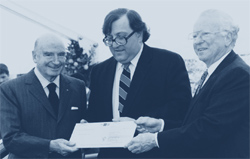 "We are satisfied that the result of this agreement will be to help fight a disease that causes victims in all countries."
Pier Giuseppe Beretta – Chairman of Fabbrica d'Armi Pietro Beretta
"General Motors is happy that the result of this agreement will go to help cancer research because this has been one of our key commitments for many years. "
Mr. Roger B. Smith – Chairman of General Motors